When you think about Baja California's 'wild' nightlife, a chorus of coyotes and dancing biofluorescent scorpions probably isn't the first thing that comes to mind. Far from the chaos of Cabo and other high-traffic tourist spots, a very different kind of nightlife is gearing up to party once the sun sets. Aboard our small ship, we sail into a region of untamed wilderness where behemoth cardón cacti stand watch over hushed desert isles, the sky above glows with the light of 10,000 stars, and the sea below swirls with more marine life than you can even imagine. Welcome to Baja California at night.

Get Inspired By Photos, Videos, Webinars, Stories, And Exclusive Offers. Sign Up
Epic Sunsets and the Green Flash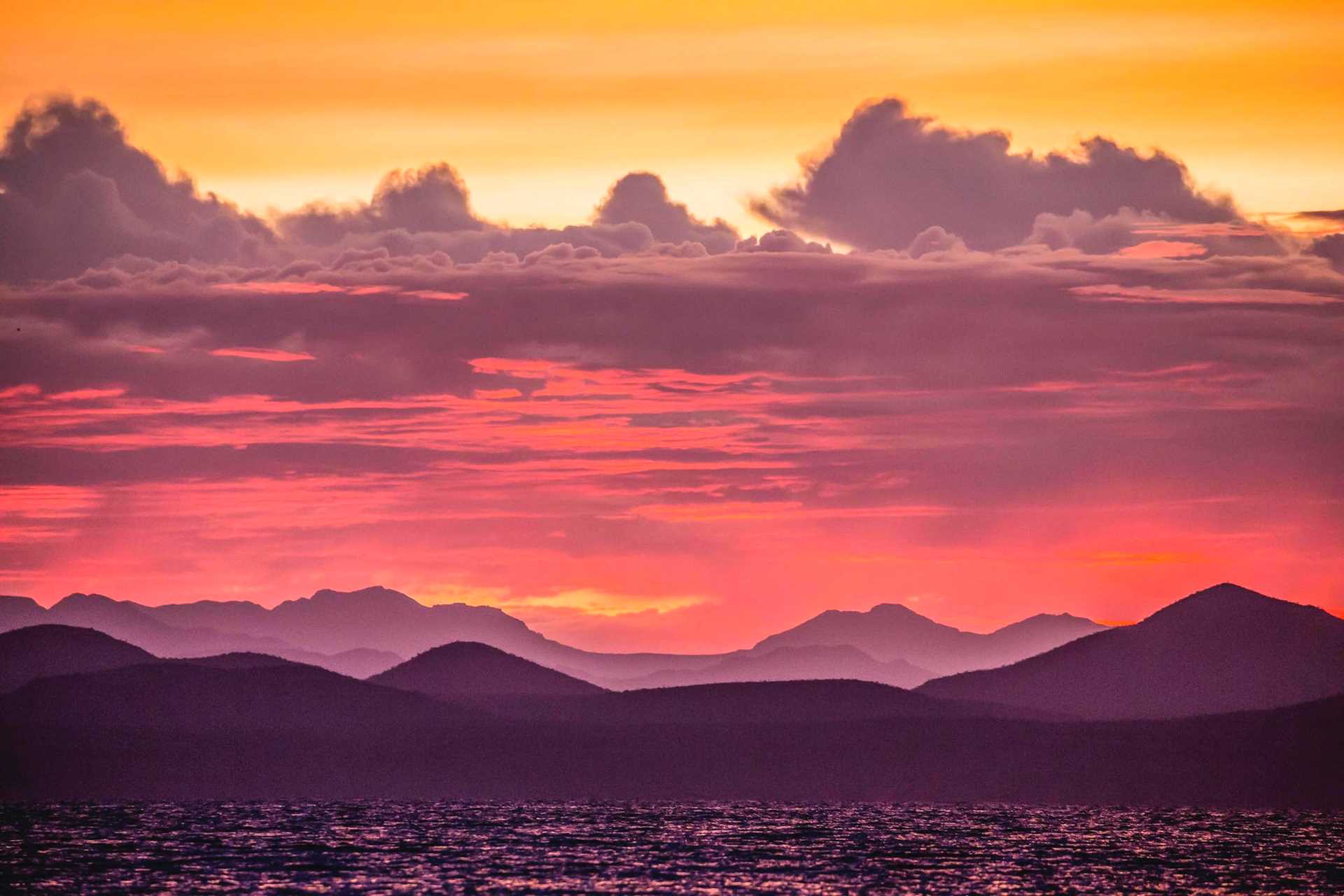 Photo: Michael S. Nolan

Known as a land of perfect light, Baja California is legendary for epic sunrises and sunsets that will take your breath away. It's also one of the few places in the world where you can see the green flash. This optical phenomenon can happen at both sunset and sunrise and gives the sun's upper rim a green appearance as light refracts in Earth's atmosphere. While it only lasts mere seconds, the prism-like mirage can sometimes take the shape of an hourglass, with the emerald top. Even more rare is the green ray that shoots up immediately after the sun hides behind the horizon. In his novel Le Rayon Vert, author Jules Verne noted that according to legend, those who witness "a green which no artist could ever obtain on his palette" won't ever err in love.
Biofluorescent Scorpions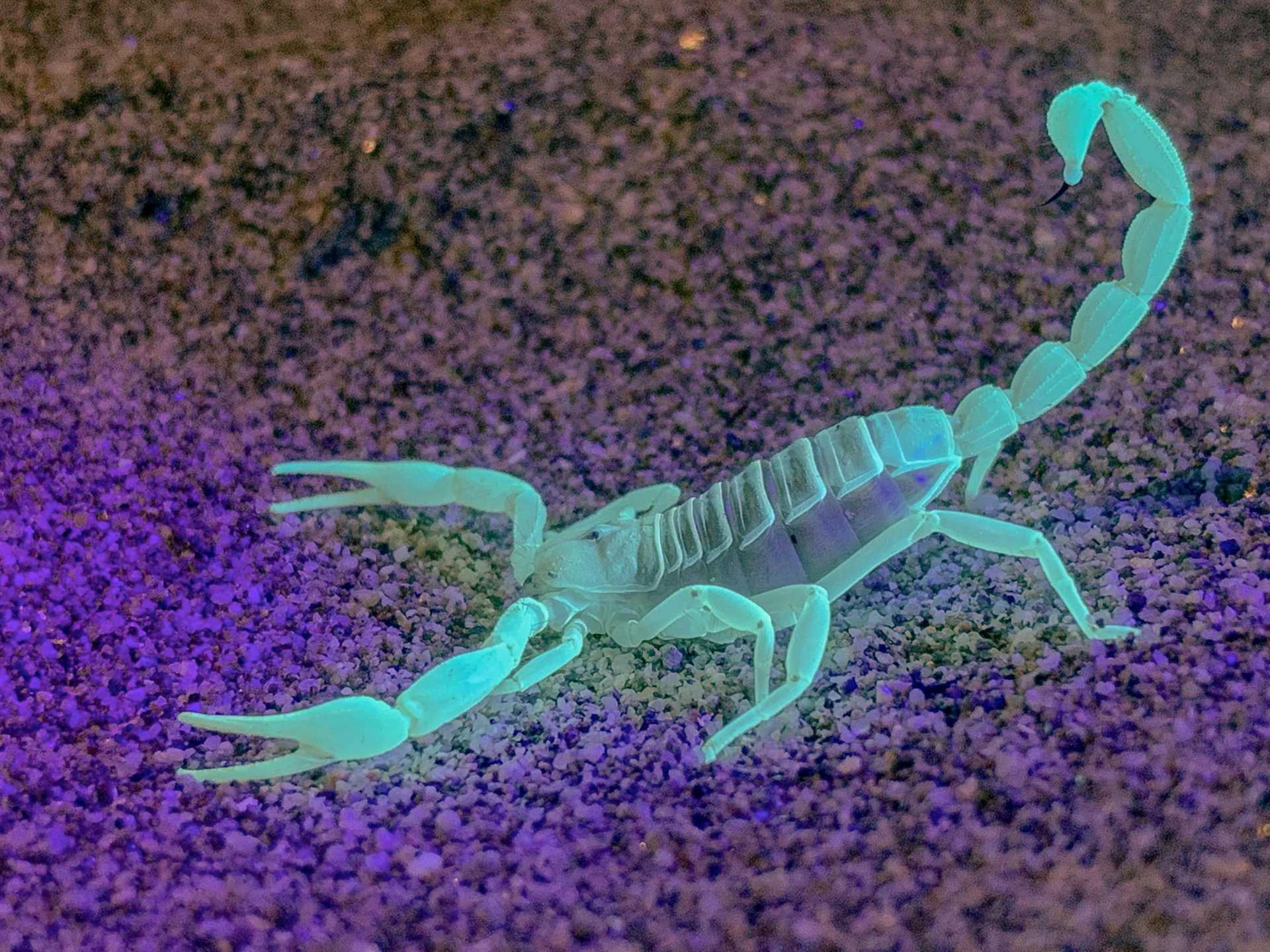 Photo: Rich Reid

No, your eyes aren't deceiving you—those neon blue-green scorpions are very much real. These predatory animals come out at night to dine on insects, spiders, and even fellow scorpions. Armed with infrared flashlights, we'll head out on after-dark scouting trips hoping to spot these arthropods which glow under black light. Molecules in their exoskeletons absorb UV light wavelengths to produce the fluorescence that's in-tune with their nervous system, helping them detect the faintest light changes, even if it's just the radiance of stars.

But it's not just on land where creatures light up. Those lucky to sail under a new moon can glimpse a teal sparkle of bioluminescent plankton—as luminous as the constellations above—trailing your Zodiac's path back to the ship.

Unique Cacti Photo Ops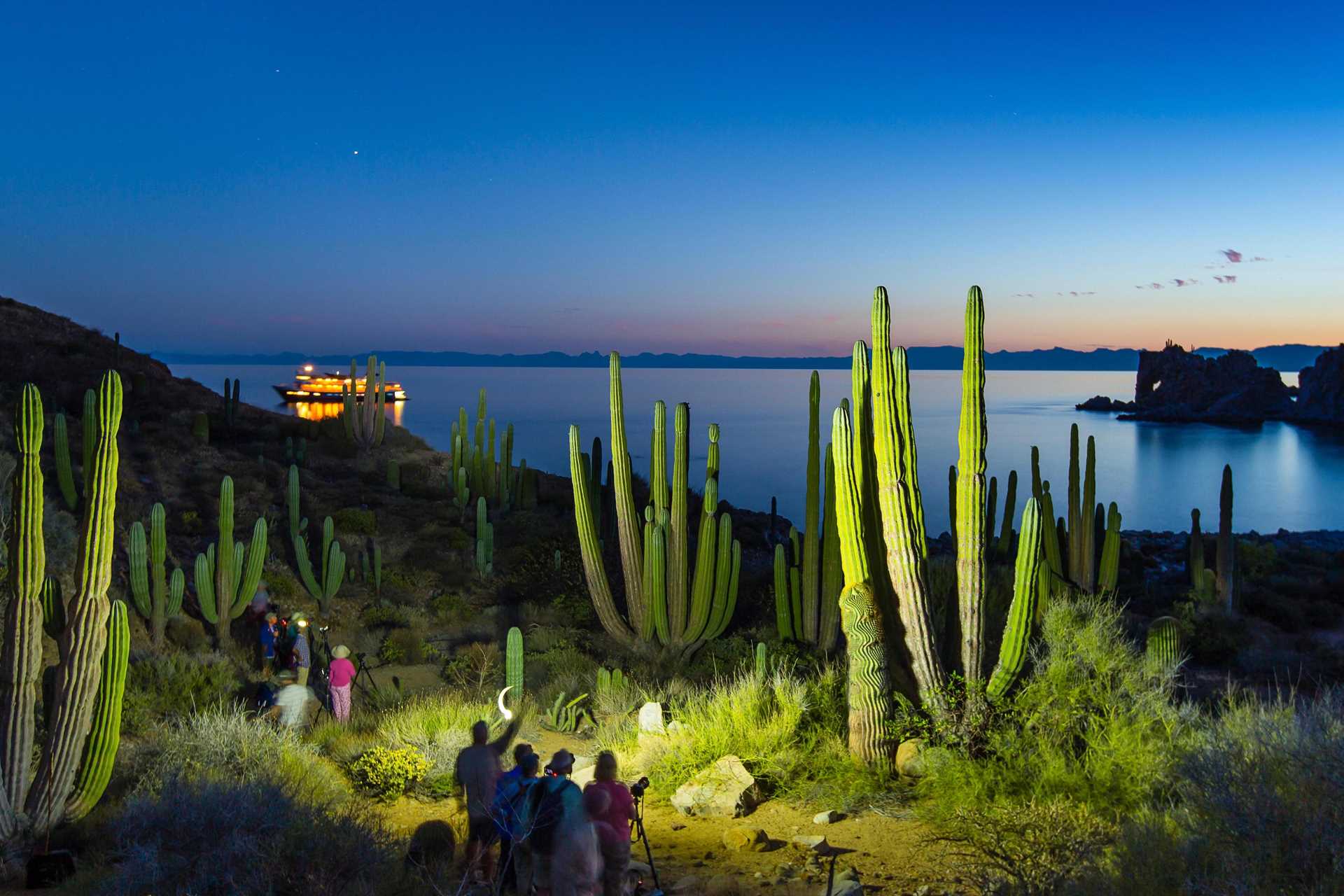 Photo: Ralph Lee Hopkins

The Baja landscape wouldn't be complete without an array of cacti silhouettes. When conditions allow, we set off on an arroyo hike in the nocturnal Sonoran desert landscape amongst a parade of cacti variations—giant barrel cacti, prickly pears, fuzz-topped "old man" cacti and colossal cardóns—clustering to create a forest, of sorts. Capturing these prickly plants in a nighttime photo enhances their unique shapes. All you need to do is "paint the plants'' with light. Set up your camera to use a low ISO and slow shutter speed, then use a flashlight to move the light beam up and down the cacti. The extra light will contrast the desert plants in the foreground against the cerulean twilight sky.
Spectacular Starscapes

Photo: Michael S. Nolan

Baja's remote location, as well as its clean, dry air, opens up the night sky to stunning starscapes. As darkness sets in, look out for meteor showers, planets, a myriad of constellations, the Milky Way, and luminous star systems visible in the Southern Hemisphere: Hadar, Alpha Centauri, and Omega Centauri, a globular cluster of 10 million stars twinkling some 16,000 light-years away. The clarity of the sky is so fine that you might not even need binoculars—especially once your eyes adjust to the glow of starlight. Photo enthusiasts can grab ultra-wide lenses from the onboard OM System Photo Gear Locker before departing on the night tour and trying their hand at some astrophotography.
Animal Night Noises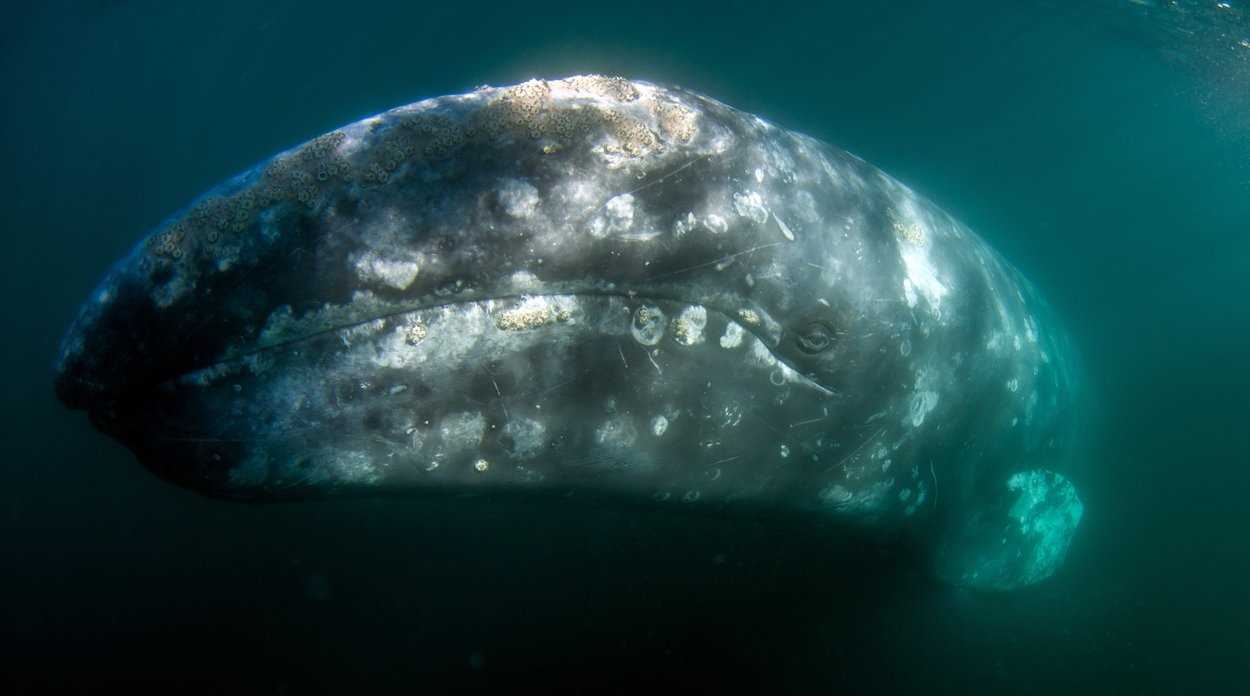 At the end of a thrilling day, you'll be lulled to sleep by nature's soundtrack, featuring gray and humpback whales, barking California sea lions, and coyotes. Magdalena Bay, home to about 400 grey whales, transforms into your own personal sound machine as the whales break the silence with soothing puffs of air blown out. You can also hear humpback whales skim-feed at night, when the krill and copepods migrate closer to the surface. Interestingly, humpback whales also make a "tick-tock" sound to alert other whales that dinner is nearby. On shore, coyotes roam the sand dunes on islands and islets, like Sand Dollar Beach and Isla Santa Margarita, serenading with their howls and high-pitched yapping.


Main image of cacti at night: Ralph Lee Hopkins