In Japan, garden design is a fine art, one that takes on many forms and is—as art cannot help but be—emblematic of its time period. Take one traditional style, the landscape garden, which was developed during the influential Edo period (1600 to 1868). Severe travel restrictions inspired feudal lords or daimyos to create their own private excursions in the domains they'd been entrusted with—both in Edo (modern-day Tokyo) and at their countryside properties. Modeled after famed natural landscapes or fictional settings illustrated in legends and poetry, the results were nothing short of spectacular. Get Inspired By Photos, Videos, Webinars, Stories, And Exclusive Offers. Sign Up
VIEW OUR BRAND-NEW JAPAN ITINERARIES >
These oases, also called strolling gardens, were designed with winding pathways that promised a change in scenery with each step, often employing a "hide-and-reveal" technique to hold guests' attention. For example, stepping stones crossing a stream were intentionally offset to require passersby to look down and then back up again to take in a fresh perspective on the opposite bank. Each element was meticulously manufactured to inspire contemplation—from koi ponds and bridges to teahouses and tree placement, even down to the bend of individual boughs. It's not unusual to see them propped up by wooden supports.
These daimyo gardens have been open to the public since the end of the feudal era in the 19th century and have been exceedingly well-preserved, transporting travelers not only to a place of calm introspection but back centuries in time.
Kenrokuen Garden in Kanazawa


On the Kanazawa Castle grounds, Kenrouken is a 25-acre haven of tranquility. Its name translates to "Garden of the Six Sublimities," referring to Chinese landscape theory's ideal garden components: a balance of spaciousness and seclusion, antiquity, human artistry, flowing waterways, and sweeping views. It took the ruling Maeda family two centuries to achieve this level of perfection.
Don't miss the Karasaki Pine, a particularly treasured tree there which grew from a seed planted by the 13th lord Nariyasu nearly 1,000 years ago. Each winter, gardeners erect a series of umbrella-like rope structures called yukitsuri around it that may appear to be an art installation but actually serve to protect the branches from heavy snowfall.
Senganen Garden in Kagoshima


Here, visitors are treated to a classic example of the ancient concept of shakkei or "borrowed scenery." Senganen's design seamlessly incorporates spectacular views of Kinko Bay and Mt. Sakurajima, one of the world's most active volcanoes, which gives the illusion the garden is much larger than it is. Built in 1658 as a summer escape for the Shimadzu clan, it exists today as a 12-acre love letter to Japanese culture.
Standout sights include a bamboo grove—the first bamboo imported into Japan, dating back to 1736—and many traditional tearooms and shrines. Among them is one of the country's only cat shrines, where cat lovers can leave an offering of well wishes for their favorite felines on wooden plaques.
Korakuen Garden in Okayama


One of Japan's premier strolling gardens, Korakuen resides on an island in the Asahi River, near to Okayama Castle (which is an equally dazzling site to see with its rare black façade). Work began in 1686 and was completed in 1700, though the garden was destroyed by a 1934 flood and bombing during World War II. Each time, the Ikeda family's detailed records allowed restorations to replicate its original grandeur. With the exception of a few updates made by successive local lords, it appears today as it did in the Edo period.
For a picturesque view, scale Yuishinzan Hill, which overlooks Sawa-no-Ike, the largest pond. Korakuen is also famous for its crane aviary, where endangered red-crowned cranes are bred. At certain times of year, lucky visitors may even hear their dramatic courtship calls echo through the trees, while annually on New Year's Day, the majestic birds are ceremoniously released into the garden to the cheers of delighted onlookers.
Ritsurin Garden in Takamatsu
This 40-acre garden (185 acres in total including the "borrowed" Mt. Shuin) is the largest Cultural Property Garden in Japan, with six koi-filled ponds and 13 manmade hills. Construction is believed to have begun as early as 1625 and the domain's fifth lord, Yorishige Matsudaira, saw it through to its completion in 1745.
Though Ritsurin means "chestnut grove," the garden's 1,000-plus pine trees are the true star. Centuries of skillful gardeners have carefully pruned them all into arresting, bonsai-style figures. The best vistas can be enjoyed from the top of Hirai-ho Hill—a miniature Mt. Fuji—and traditional wasen boat rides allow visitors to take in the serene sights as they glide across the water, feudal lord–style.
Kairakuen Garden in Mito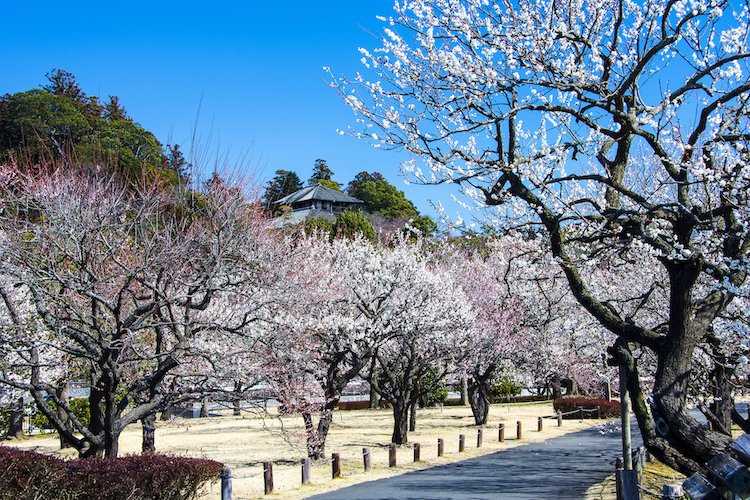 The city of Mito was a power base during the Edo period but is best known today for Kairakuen. Considered one of Japan's three finest landscape gardens, along with Kenrokuen and Korakuen, this beautiful destination is renowned for its more than 3,000 plum trees. Kairakuen translates to "park to be enjoyed together," and unlike many other gardens of the time, it was not just for the enjoyment of the ruling lord, it was also open to the public.

While the plum trees are a huge draw—they blossom into shades of white, red, and pink from late February through March—other highlights include a bamboo grove, cedar woods, and Kobuntei, a traditional Japanese style building. Be sure to head up to the third floor for spectacular views of Mt. Tsukuba, the pine forests of Oarai, and Lake Senba with its many swans.