Options for exploring Iceland have exploded in recent years, making it even more important for discerning travelers to single out an itinerary that captures the true spirit of the country. There's no better way to experience authentic Iceland, far from the well-trodden Ring Road, than on an expedition cruise to the country's unspoiled corners. A voyage with Lindblad Expeditions-National Geographic puts you up close with wide-open wilderness, local luminaries, and the less-traveled side of this beloved country. Ahead, discover why this subarctic island is even more compelling when it's seen by sea—and start dreaming of your own Icelandic adventure.

Get Inspired By Photos, Videos, Webinars, Stories, And Exclusive Offers. Sign Up
Explore hidden gems in the country's unspoiled corners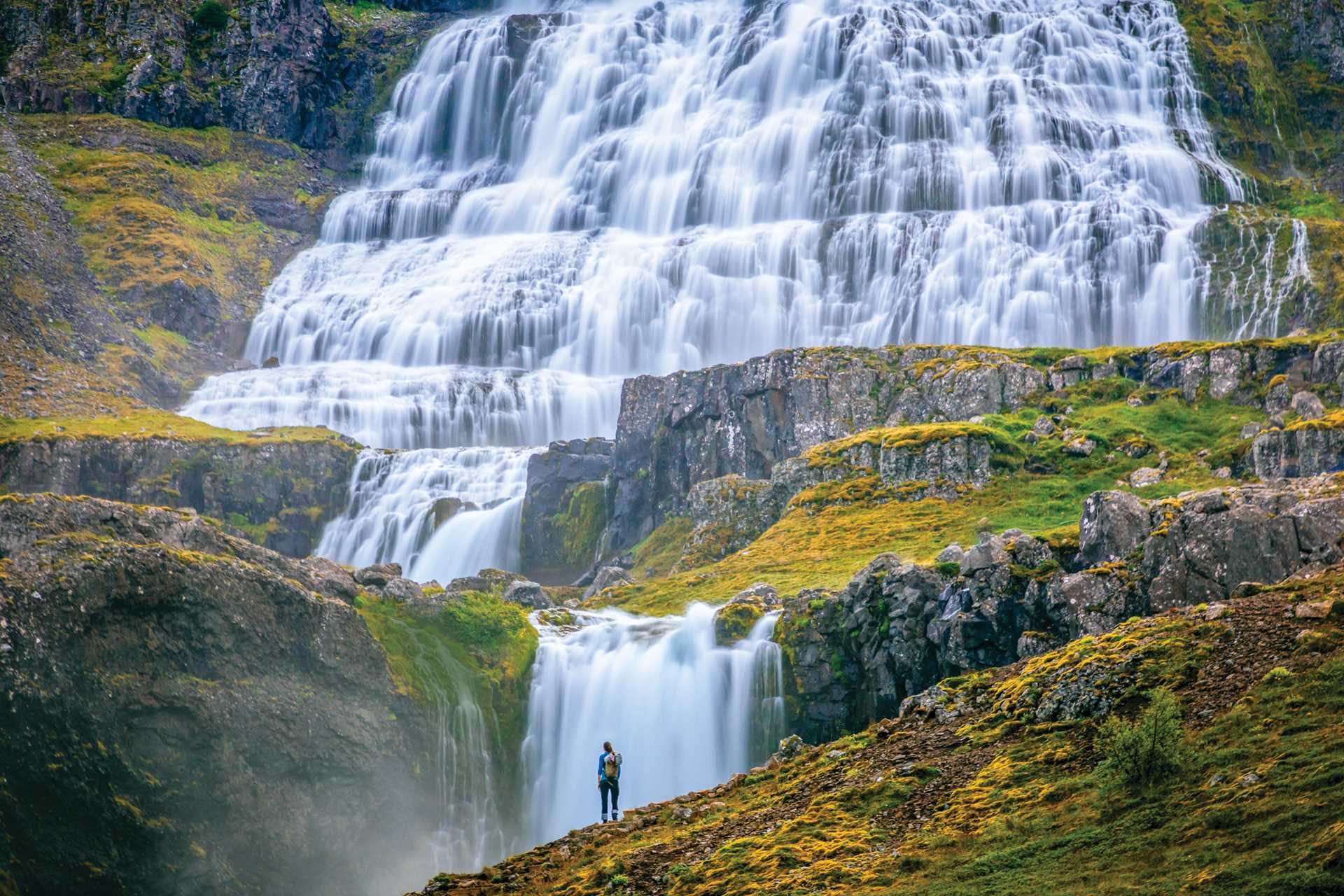 According to the Icelandic Tourist Board, Iceland welcomed 1.7 million visitors in 2022—a 155% increase from the number of tourists in 2012. Once-quiet areas of the island nation are now flooded with people eager to see its churning volcanoes and bubbling hot springs—just ask anyone who has ever sat in gridlock on the Ring Road during peak season. But when you're exploring by ship, the word "traffic" isn't in the lexicon.
With Lindblad Expeditions-National Geographic, you'll find yourself far from the hordes in tiny villages like Djúpavík, a onetime herring boomtown in Iceland's least populous region. In lieu of elbowing your way through crowds of tourists all jockeying for photo ops at Skógafoss, you'll head to the awe-inspiring, remote Dynjandi waterfall in the Westfjords. And in the idyllic hamlet of Djúpivogur, nestled on Iceland's eastern edge near the mouth of the Berufjörður fjord, you can walk along a pristine black-sand beach as you take in the beauty and stillness of your surroundings.

Discover abundant wildlife and idyllic daily life on remote islands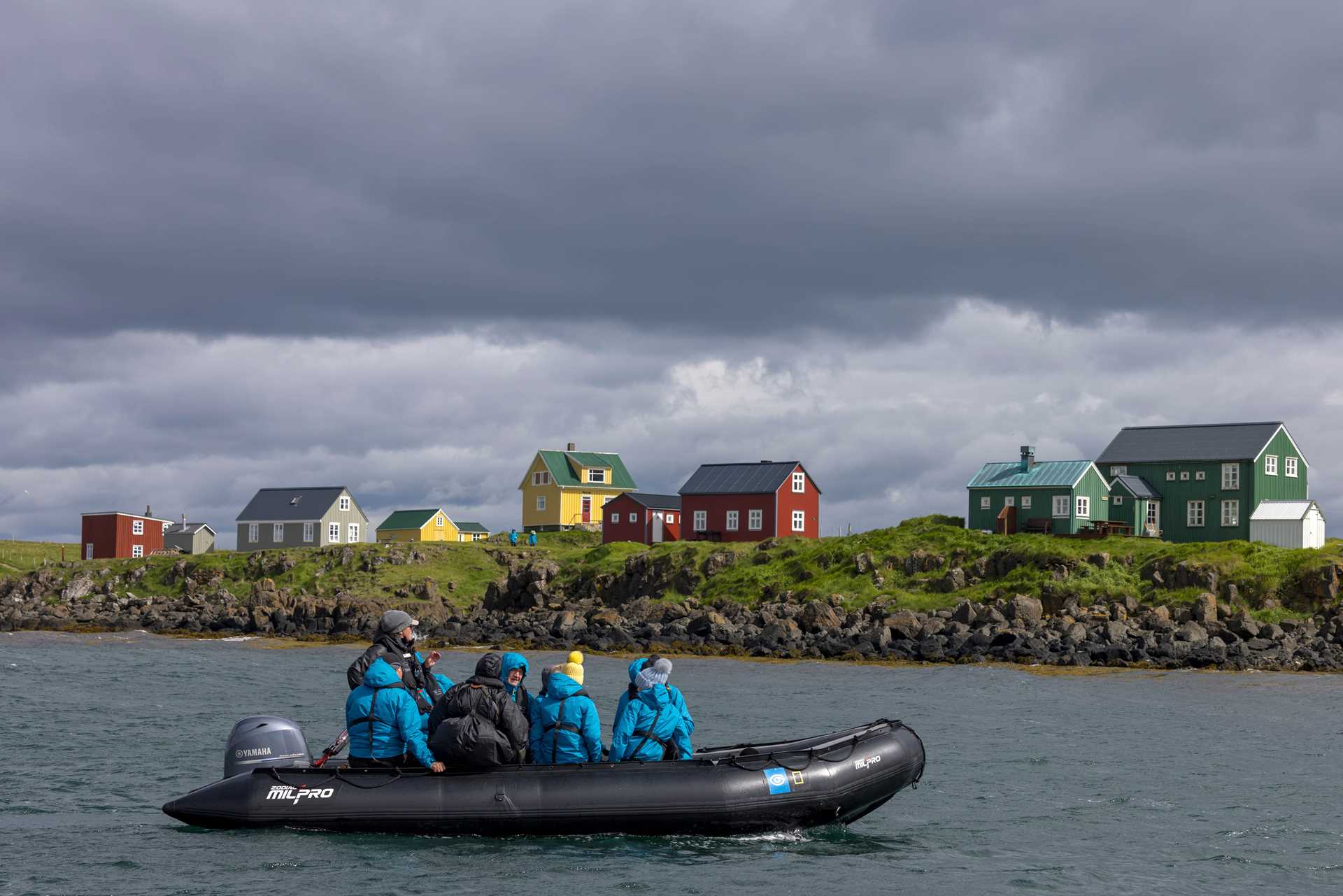 A land-based adventure is sure to tick off all the major sites. But in a wild, windswept place like Iceland, where harsh conditions and rough, dramatic beauty reign supreme, there's something extra compelling about venturing to the furthest reaches of the country to seek out a different perspective. These remote corners offer a glimpse at wilderness that few ever see, as well as a glimpse at the daily rhythms of life that have remained much the same for generations.
On a Lindblad Expeditions-National Geographic itinerary, Zodiacs aboard each ship allow guests to explore the far-flung islands off of Iceland's coastline without the need for existing infrastructure—and in a fraction of the time it would take for overland visitors.
Visit the quaint island of Flatey, a postage-stamp isle of colorful, century-old houses and few inhabitants, and little to distract you from the sounds of birds and ocean waves. In the Westfjords, tiny Vigur—home to just a single family, the island's owners—has a thriving population of Arctic terns, puffins, and eider ducks, Iceland's only windmill, and the smallest post office in all of Europe, as well as a long history of annual eiderdown harvesting, a tradition islanders take great pride in. On the island of Grimsey, you'll find a few dozen families who make their living fishing the surrounding waters, along with the island's most significant inhabitants: colonies of seabirds estimated to be a million strong. You'll also have the chance to set foot in the Arctic Circle—the boundary runs right through this spectacularly remote island surrounded by the North Atlantic.


Get up close with lesser-known geologic marvels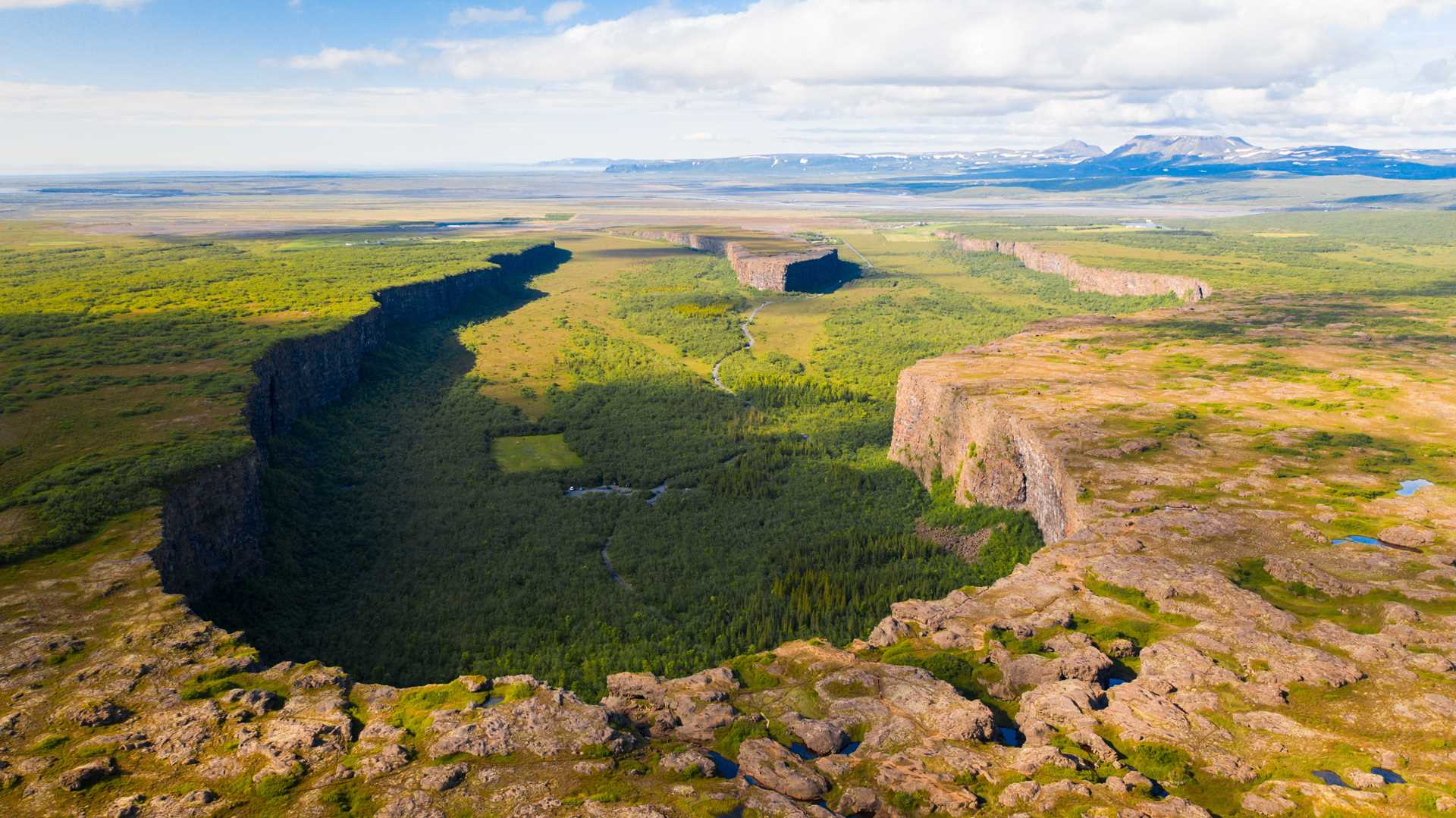 There are few places on earth that could make a geologist's heartbeat quicken like Iceland, so densely packed are the country's natural wonders. Most land-based travelers zero in on the same popular destinations like the Blue Lagoon or Thingvellir National Park which you've likely seen splashed across everyone's social media feed. But they are missing out on a wealth of other fascinating encounters with this otherworldly volcanic landscape. Exploring by sea allows you to cover more ground in an effortless way and reach seldom-seen geologic marvels that in many cases are even more spectacular.
On a Lindblad-National Geographic voyage, you'll venture to Vatnajokull National Park where you'll spend the day exploring Asbyrgi Canyon, a uniquely-shaped horseshoe canyon filled with birch and willow trees, and the neighboring Jokulsa glacial river. Off Iceland's southern coast, you'll sail past Surtsey, a UNESCO World Heritage and the nation's youngest island, formed by volcanic eruption over several years in the 1960s. Access to the island is granted only to select researchers, so few travelers can glimpse Surtsey unless they're voyaging by boat or flying overhead.


Learn from subject-matter experts and in-the-know locals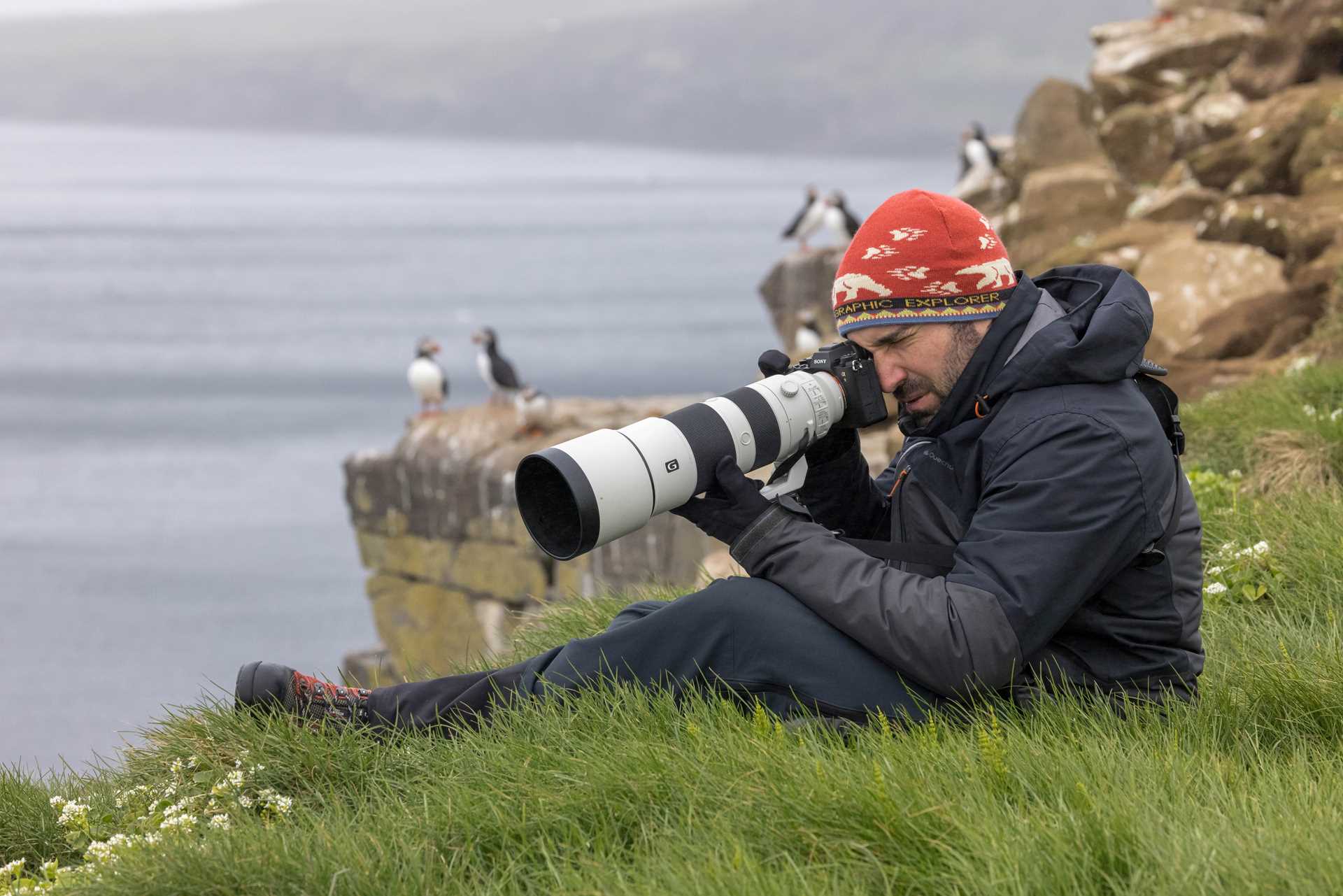 Aboard our small ships, you'll enjoy plenty of face time with individuals at the top of their field. Throughout your journey, you'll have daily access to a certified photo instructor helping you capture images of ethereal sulfur cauldrons, nesting puffins, and elegant Icelandic horses, plus naturalists who can shed light on the local seabird populations or the migrations of area whales, and a cultural specialist to interpret the unique customs you'll come across. Every element of your trip offers a new chance for expert context and analysis.
That's also true for the locals you'll meet. An Icelandic voyage might include a tête-à-tête on board the ship with luminaries like Silja Ómarsdóttir, a professor of international affairs whose research centers on Icelandic society and politics, reproductive rights, and Iceland's foreign and security policy, or Ragna Árnadóttir, the first woman to hold the position of secretary general in the Icelandic Parliament. Plus, you'll catch performances from talented musicians like singer-songwriter Hafdís Huld Þrastardóttir or Svavar Knútur, a storyteller and performer who weaves together music and stories about life in rural Iceland.
If you're looking to stray far from the predictable path and experience a side of Iceland few travelers are lucky enough to know, we invite you to join us on a small-ship adventure aboard a Lindblad Expeditions-National Geographic vessel.